Bardot is opening its doors in Perth; there's already a store at Karrinyup but their big City store is set to open on 10th October. Pieces that caught my interest today: a beige sequinned jacket a la that Topshop jacket, a faded tie dye scarf, a fab selection of jeans, and the coolest sleek sequin/jumpsuit hybrid. All for friendly prices......Sportsgirl, be threatened ;) (A little birdy told me there are talks to get 'one' of the Project Runway Australia designers to work with them.....)
Speaking of designer collaborations, hello Camilla and Marc for Portmans. I kid you not. Except only over east. Don't fret Western Australians, apparently there may be potential to identify item of choosing (online/in magazines) and then order it instore here. Fingers crossed. Friendly priced Camilla and Marc pieces? Who answered my prayers :)
shopafricanteaparty is set to launch soon(ish), I promise you. Currently taking photographs of items to sell. There will be: vintage jackets, skirts, shoes aplenty (for those with a shoe size from EU 36 - 38), bags, jewellery. Most of this will be brand new or worn once condition (except for the vintage, obviously)
Select pieces from This is Genevieve's newest collection (click on link to view) have landed instore at Billie & Rose, for the Perthites. They've outdone themselves once again. Cropped tops, mesh/material bustiers, Isabel Marant-esque suede slouchy chain wrap boots, fab cutouts, feather stoles, and more. Shop select pieces online from Pitbull Mansion (to be dropped soon).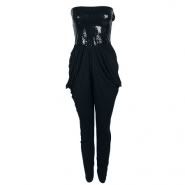 pc: bardot
The weekend thus far (Saturday night, and counting) has been spent helping a male friend shop (like a personal shopper :), contemplating 'spring cleaning' my wardrobe, sleeping, and exercising. Stuart and I now plan to watch a movie, and I
intend
to start the 'spring cleaning' and keep snapping shots for
shopafricanteaparty
.