1. Thigh high boots:
I've searched high and low for the perfect thigh-high leather boots.....I have abnormally skinny legs for my body and as a result most of the thigh-high boots out there just gape around my legs. Its especially bad with "skinny" shaft thigh-highs (woah, does that read completely perverted or is it just me?!!?) because they do this wierd bunching thing around my legs. AND lets not get into the whole "is it skanky if you're wearing hooker boots with really high heels?" moral fashion dilemma. In my opinion, if you're going to wear thigh-high boots and short tunics/shorts/skirts/other, its best if the boots are flat. So with that in mind, I've been searching. For the past 3-4 seasons....with no luck. And finally, I have acquired the perfect pair and they have made the ardous journey over rough seas (or maybe just in a plane, but still...) and are in my possession. The boots in question? These babies:
pc: ninemsn
Since I first spotted them coming down the runway, worn by Freja and paired with the paperbag-waisted leather shorts, I've drooled over this pair by
Chloé
. What's not to love about this cuffable thigh-high version, with leather straps to be criss-crossed across the shaft for the perfect dishevelled look!! And its my duty to tell you that these babies are softer than soft and are about the most comfy things I've ever worn on my feet. Welll worth the investment. Mmmmm. Now where can I get me a pair of coloured paper-bag waisted leather shorts?
MyCatwalk
(click on link) has teamed up with Maurie and Eve, whom I've discussed
here
and
here
, to offer one lucky person a chance to win $1000 worth of fab Maurie and Eve gear. Maurie and Eve are always on-trend, avant garde and brilliant....and if you win, you get to join a stylist (no names revealed yet) in Sydney and have your wardrobe planned for the season, jam packed with Maurie and Eve products. Oooh. All you have to do is spend $250 at mycatwalk.com.au to be entered into the draw. This one suits the Aussies, but even if you're not an Aussie there's no reason not to check out Maurie and Eve for brilliant Christmas buys (I promise I get no commission from this, I just love Maurie and Eve that much :)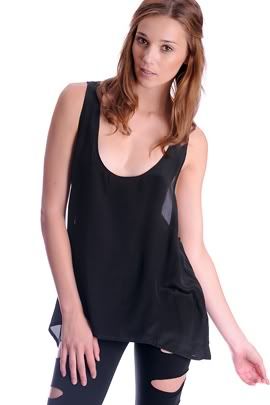 pc: my catwalk
3. Ridiculous platform shoes:
I've recently been drooling over a number of shoes, all of which have one thing in common: a ridiculous platform heel. I say the more ridiculous the platform height, the better. So should it be the
Ashish platform wedges
(in black....because zebra is a little too trash-glam for my liking) or the
Aggie metal insert heel boot
, or even
these
or
these
or
these
? Any other suggestions as to how to satisfy this crazy platform kick I'm on?
pc: topshop
What are you craving of late?