I have been told, on a number of occasions, that I am a hippie at heart. I like to reassure friends that I do not discriminate; I adore fringing as much as I do studs. Ahhh, the two words that send my fashion imaginations to a happy place. As such, it's no suprise that I'm a huge fan of all things Etro. The S/S 08 showings were beyond effortlessly cool, in my opinion anyway. The more studded belts and flowy dresses I see, the better. Sheer bliss in many colours, toughened up by studded belts or utilitarian cross-body bags or wide belts or man bags.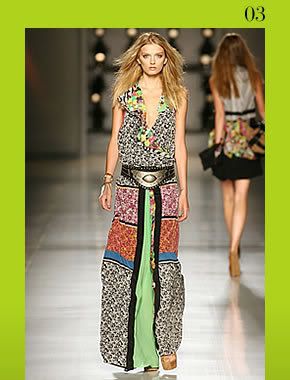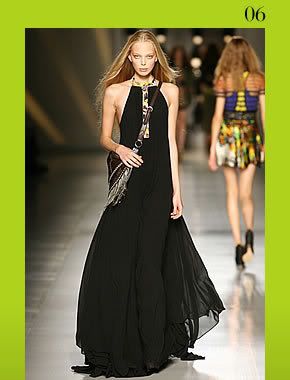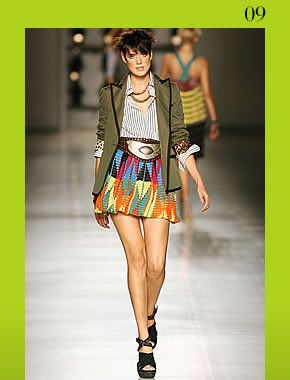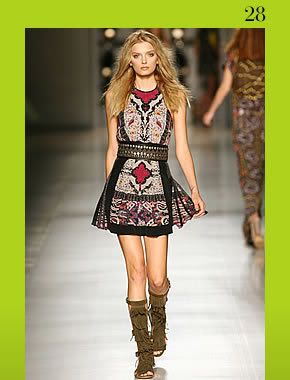 Ahhh, it had everything....flowy maxi dresses, ginormous studded belts, fringed/studded cross-body bags, platform gladiators, cuffed mens pants, and a whole lot more.
And then there was that translation from runway to red carpet that has been made infamous in numerous blogs. Yes, Kate Bosworth in Etro (and when the deal was sealed) ....


Now its off to Natasha and Sportsgirl for starters to find me a fringed suede leather bag and a suede fringed vest respectively (both spotted in the pages of magazines).
p.s. how cool is Agyness Deyn?

Post-edit: I know the Etro showing was a while back, but summer is coming to Australia, as is fringing. Whoop! On the downside, however, where are the studs??? (Guess I'll have to make do with the awesome suede leather studded Valentino miniskirt I found at my fave op-shop/vintage shop for $Aud 3.00 :)

sources: etro, http://www.people.com