I had the craziest day at work today....some staff briefing (that went for wayyy too long), coffee with a friend at the awesome artsy/eclectic coffee bar in the city, a little work, the pretend-fire drill (and then the struggle to finish a report). Because I volunteered to be a warden. The drill took an hour in total, from the brief to the 'event' to the de-brief. Most important to mention? The gorgeous fireman who came in to help us out. Mmmmm. Anyway, after that I had to rush to Sportsgirl as I had put two pairs of shoes on hold. I ended up buying the camel coloured platforms I've had my eyes on for a while, but hadn't bought because I wasn't sure of the colour. I have brown skin, so camel and brown is perhaps not a combo to mix.
But when I walked in to Sportsgirl today, the shoes were more than 50% off. Woot! I love Sportsgirl sales. Hah. Who cares about matching your skin colour to your shoes at that price? :) Whilst there, I also saw another pair on sale for $70 (basically imitation YSL tribute sandals, which the boy thinks 'aren't that great', he picked the camel coloured pair).


(the 'camels', sorry about the face)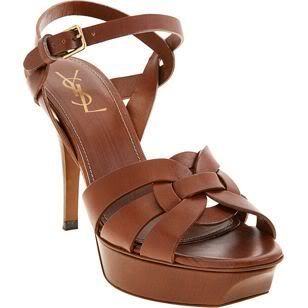 the real deal; the YSL tribute sandal
I thought about buying both (as the imitation YSL's were also half-price) but restrained myself. I seriously have a shoe problem, and this isn't helping. I only recently picked up a pair of leather wedge thigh-high boots (very, very similar to the latest offerings from Stella McCartney and Louis Vuitton actually!) and a pair of menswear-inspired Ninewest high heel brogues from my fave op-shops (and I was actually whinging recently about the fact that I could never find vintage shoes because I have little feet (a size 5.5, true)). I am also waiting on the Colin Stuart studded booties from Victoria's Secret, which I am slightly nervous about.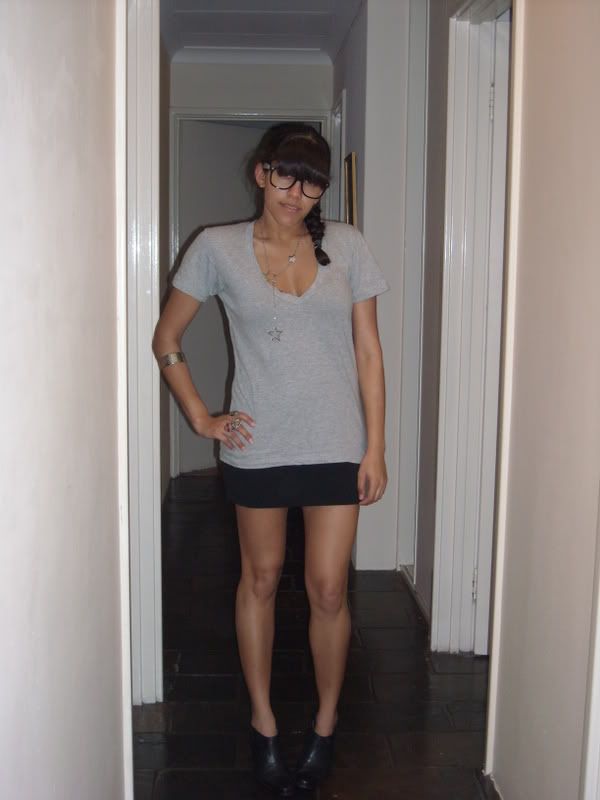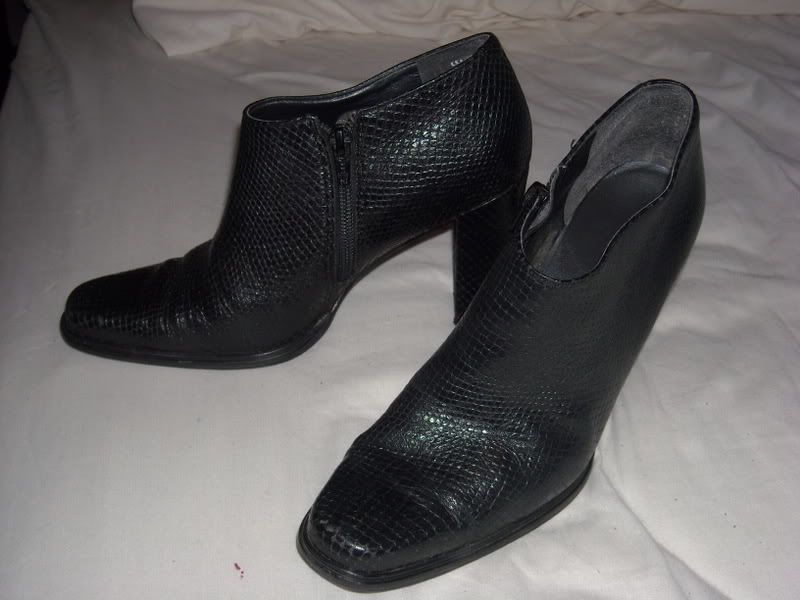 (vintage ninewests, from my fave op-shop)


I swear the boy thinks I'm mental. The other day I said to him that I didn't have that many shoes cough*althoughthatmaybealie*cough and he responded with 'Yes, and you're only 24. You have time. We're going to have to rent a place to stay that has a spare bedroom for your shoes'. All said with a hint of amusement. Ahh, bless him and his reticent ackowledgement and acceptance of my shoe thing.
black tee, supre. vintage shorts, cut-off Levis. bag, vintage Louis Vuitton. patent leather shoes, sportsgirl. stupid face, shattered me.
grey tee, supre. skirt, cotton on. shoes, vintage. jewellery, diva and vintage. glasses, destroyed cheapo sunglasses.
source: luxist