Or what the Americans like to call "thrifting". I adore op-shopping, a task made even more exiting by the thrill of finding exquisite, divine pieces. Ahhh. But Perth is a little hit and miss with op-shops, and slowly I'm getting to grips with which ones always have gorgeous stock, replace stock regularly, have unique stuff, are budget-friendly (I kid you not, I walked into one awhile back where the prices of quite a few items were more than they originally cost. The goods were also cheap chainstore quality. So I quickly walked out before I was tempted to buy valleygirl (a.k.a the Australian version of F21) pants for $28!).
That experience aside, I'm lucky in that I find alot of nice stuff. Which may explain why I recently went to put a new vintage skirt in my cupboard and found it was a wee bit of a squeeze. Ahem. Hence I will soon be putting some of the vintage goods up for sale on ebay. A girl just cannot own that many things, right? (Apart from shoes, of course ;)
This was what I wore op-shopping a little while back.....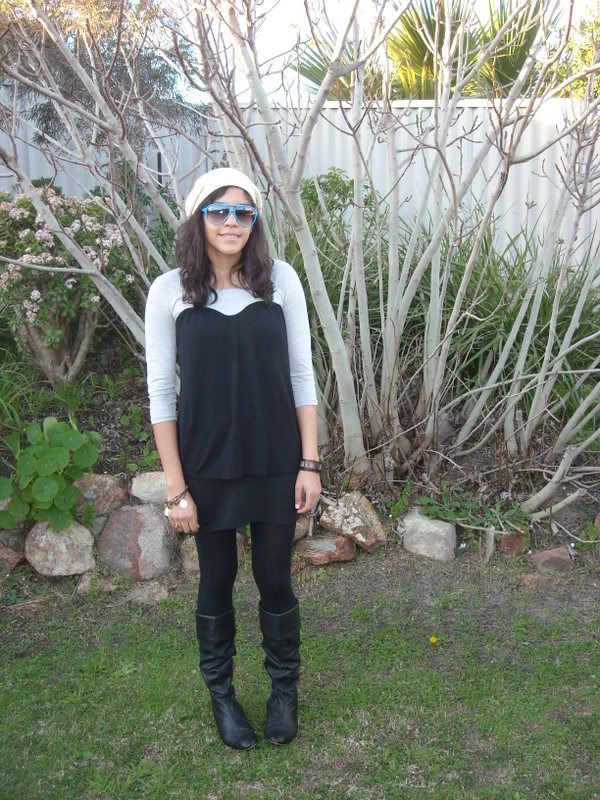 I picked up some good stuff, including a gorgeous vintage crochet style cardi and these cute-as-a-button navy blue leather flats with navy suede and gold bows and gold trim around the heels.

p.s. It's not a bad thing if the staff in the above vintage shops all know me by name, and suggest things I might like every time I go in, right? Heh.
top & skirt, cotton on. ribbed tights, myer. leather boots, shoobiz. beret, sportsgirl. jewellery, diva. sunglasses, random cheapie store.