A few days back, I was stoked to receive a lovely blog award from the gorgeous Eda of
Eda's Planet
. Eda's Planet is a recently discovered blog, comprising of a complimentary mix of fashion inspiration, outfits, beauty news and other random but relevant bits of information. Go, go, go...check out the blog :)
So, apart from smiling like a lunatic at work when I realised I'd been presented with this gorgeously floralesque award (bearing in mind blog checking is a no-no ;), I would like to pass on the award to:
1)
Stompface
- She always makes me laugh, we're going to start a tee-wearing business, she controls a strange man called Mr Bird, she has long Rapunzel-esque hair and a fab blog!
2)
Fashion Bananas
- Love her style!
3) CC of
Couture Carrie
- hell, this lady is listed under 'fashion function and fabulousness' in the dictionary. No really, go lookie.
4) Pauline of
In My Body's House
- her writing is haunting and you will not be able to look away. I guarantee it :)
5)
Sharon Rose-Style, Thrifting, Fashion and Me
- she IS the thrifting queen. You will not be disappointed.
6)
Style Porn
- Love this blog...always great for daily outfit updates, fashion updates or just updates in general.
7) Bella of
Vintage Lollipops
- If there was a way to do it (forget about getting caught out!), I would def plunder from her closet. It's my dream closet! Her blog is a no-brainer i.e. must read!
8) Sarah of
Macaroni Club
- a very recent discovery, this girl's style is off the charts and her blog a must read...what are you waiting for??
9)
Anywhere but here
- beautiful blog with gorgeous photography and style.
10)
Life in Travel
- another very recent discovery, this girl's style and smile are killer. Her outfits are insane too!
The shots are from Sunday, prior to Stuart and mine's coffee date. Every Sunday, without fail.
I found this gorgeous bauble sweater at an op-shop a while back and immediately thought of it as a cool oversize sweater dress. And it's a first for me because I NEVER wear pink....broadening my horizons, I am :)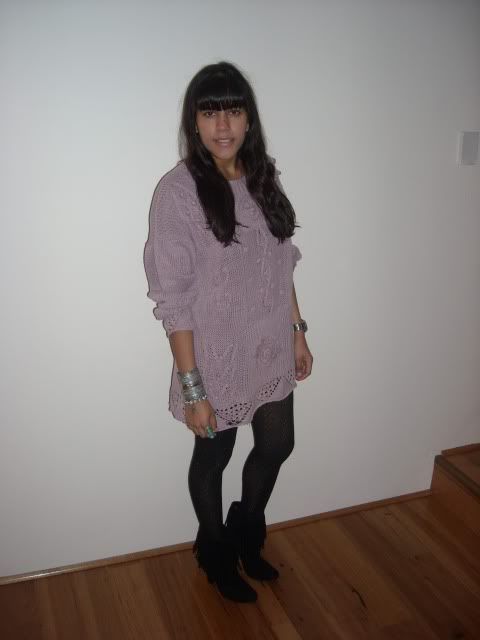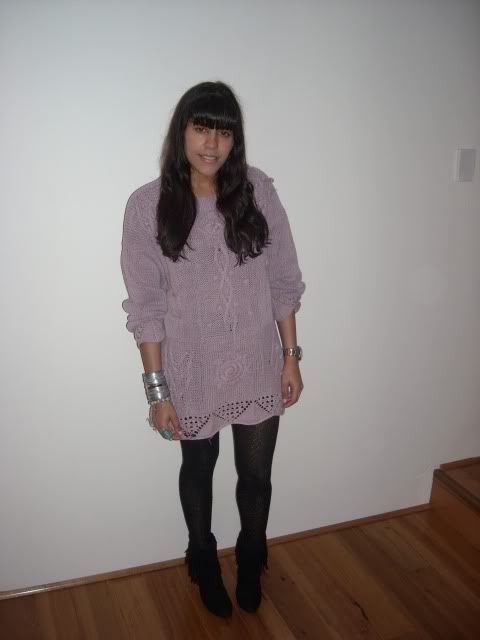 I'm planning to stud the hell out of these boots....mwah hah hah, cannot wait! Studs are on their way, they were just puchased today off of ebay.
sweater dress, vintage. tights, sportsgirl. boots, rubi. cuff, gift. ring, queen victoria markets.