As mentioned in the last post, that was the not going to be the last time you set eyes upon my beloved Metallica tee. Given that a) I love Metallica (esp. old school Metallica); b) this has to be the most comfy tee I've ever slipped on; and c) I have a new "grey" fascination, you're bound to see this tee alot more.
This time around, worn to Danny Bhoy's (the Scottish comedian) stand up gig and to drinks afterwards. I also wore my Tristan Blairs for the very first time and I have to admit that I am in complete lust nay love. They look incredible with anything and everything and are the most comfy 5" heel around. So comfy infact that lots of walking didn't kill my feet nor did dancing for a good 3-4 hours (on a separate night). Score!
they look slightly scary here, don't they (mwah hah hah) - love 'em!
I also visited my fave coffee shop in Perth last weekend; X-WRAY in Fremantle.
A complete hippy hangout, X-WRAY is tucked away in a laneway off the beaten coffee-strip on Fremantle's main street. It's characterised by colourful plastic chandeliers, hanging pot plants and of late a red makeshift galvanised tin bar (yep, they recently got their liquor licence), not to mention delicious food and fantastic coffees. Yum.
best coffee in Perth. no joke.
Their recent bar addition is reminiscent of a favourite bar of mine back in Kenya that's located on the beach, has the same kind of set up (lots of plants, a makeshift bar with stools) and is tucked away round a corner from the road. I love the bar in Kenya to bits and I can easily see X-WRAY replacing that much-needed hippy lounge hangout. In fact I spent a few hours at X-WRAY last weekend drinking the best flat whites and reading the newspaper whilst the bartender made afternoon cocktails for a few alcohol-imbibing customers and reggae pop funk music played in the background.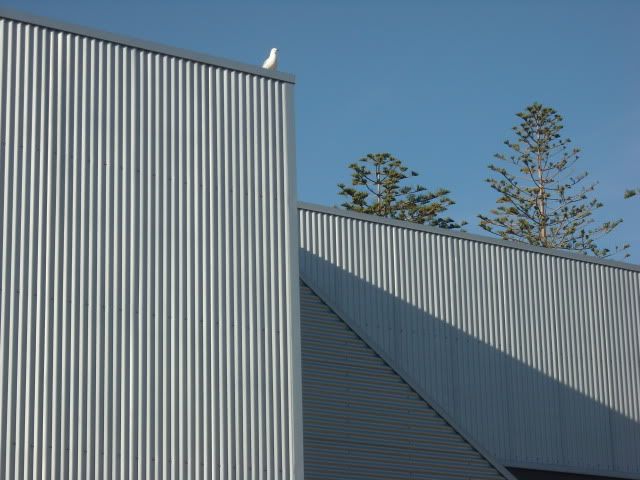 Heaven!!
Hope you're all having a great weekend....I've got the worst cold (hence the blog abandonment) and am trying to get over it asap.
tee, retrostar. jeans, supre. blazer, cue. shoes, tristan blair from sportsgirl. watch, queen victoria markets.