I saw a wonderful oversize knit with bunny face (ears and all!) by Fairground in a magazine a little while back, and it was instant love. Unfortunately it was not instant gratification as I trawled the internet far and wide [(dot)com, (dot)co(dot)uk, etc] trying to hunt down what I believe to be the most effing fabulously fantastic knit in all of history. I even tried calling the number listed in the magazine to hunt down the cape/wrap, with no luck. It was the wrong number and the American girl on the phone had no clue as to why I was hunting down a 'bunny'!
But no fear, I wasn't giving up that easily. I resolved to head out to some funkier stores to see if they stocked Fairground and to keep calling until I found Fairground's damn number. Obsessive much?
So today, on the one day that I was actually too busy to think about the 'Bunny Got Nailed' wrap by Fairground, I actually stumbled upon it. Accidentally. Fortune? Coincidence? Luck? Whatever it is, I'm ecstatic! Look forward to seeing this baby in a post coming to you soonest.
Another thing to note? Seek out Fairground. You WILL be impressed.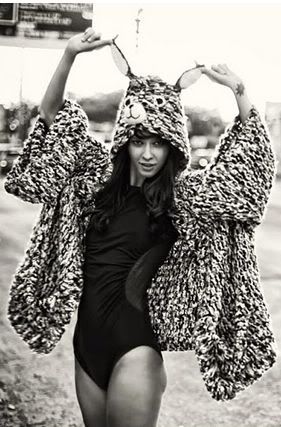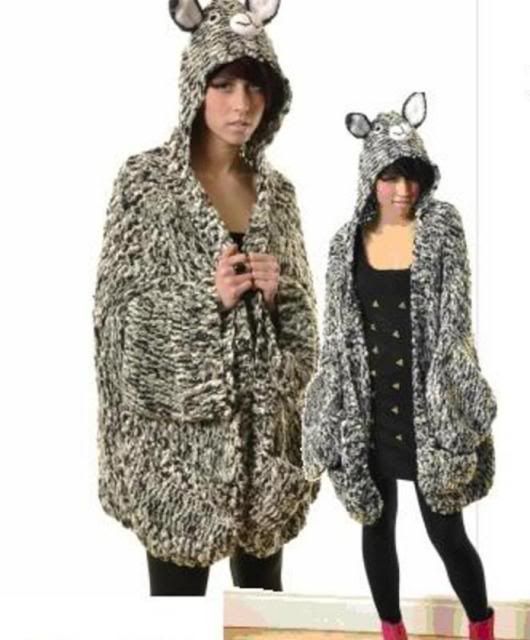 What think you of this fantastically magical wrap?