How does this Shu Uemura ad make you feel?
I'm obsessed with anything and everthing feathered and am a seagull when it comes to feathered fake eyelashes, feathered headpieces, feathered stoles, feathered tops even (don't believe me? You should see my ebay record).
So when I saw this genius ad, I drooled a little bit more than required or even expected. Keeping a personal pack of tissues on you has never been so crucial!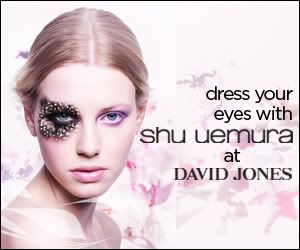 I want to do my eyes like this....don't know where I'd go dressed like this but you better believe I'd find somewhere to go! I've scared the fine folk of Perth with feathers and leather, this shouldn't be too much of a worry :)