I acquired this sharp shouldered blazer (i.e. blazer with ridiculous shoulder pads that I love) at my favourite vintage store and fell in lust straight away. Good thing it goes with everything I own then. Not sure if the shoulders are as noticeable here as they are in real life but they are my power shoulders for sure. And strangely enough, my work colleagues are now so accustomed to me showing up in odd fashion statements that they complimented my jacket and only jokingly called me a man (a few times) ;).
p.s. for the Aussies out there, have you seen the velcro-on shoulder pads Sportsgirl is touting? I cannot help but laugh. C'mon, really?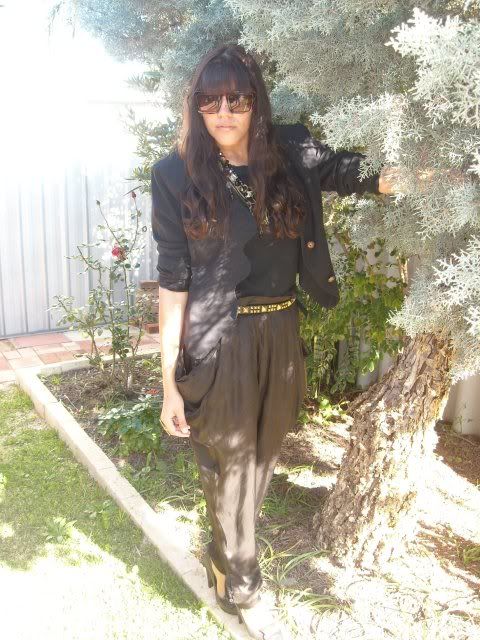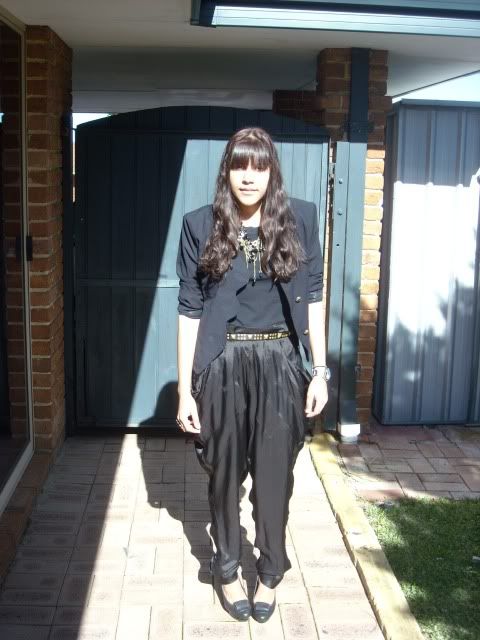 these kookai pants are deliciously poufy and the silk is so lightweight, its like wearing pyjamas :)
I'm looking forward to after-work drinks tonight with aforementioned work colleagues (I scheduled this post as I'm potentially going to be too tipsy to coherently type ;). We get on so well, it makes work even more fabulous to be at. We laugh at each other, crack each other up, have a junk food section, a serious caffeine addiction and pass lewd comments and veiled jokey insults all the time. Love. It.
Hope you all have a fabulous weekend!
top, supre. jacket, vintage. silk pants, kookai. belt, sportsgirl. shoes, orbit. sunglasses, valleygirl.