You guys all rock. Thanks for all the wonderful comments!
I promise to respond to
each and every one
of your fabulous comments in the next few days
(
this week has been full of preparing for a job interview I had today, an application to go on a funded course in Melbourne, form filling out, and nerves...phew! And its only Wednesday
)
I think I've mentioned previously my affinity for any, and all in complete honesty, shiny/liquid/sparkly/sequinned/wet look leggings. I'll take them all. So I was delighted to find this pair at Sportsgirl (oh when will you guys reward me for my obsessive lingering and purchasing of your products, hmm?). I recognise an addiction, but what can I say...atleast its not drugs ;)
Worn to dinner with a friend from my high school in Kenya. It was fantastic catching up, almost like a re-discovery of a good story that you read all over again. I haven't seen her since we were both 16, so its been a while. We re-told old stories over a bottle of vino and it was the good ol' days all over again.
Note to self: facebook overseas friends more often (I'm horrible at utilising social networking sites, I tell you)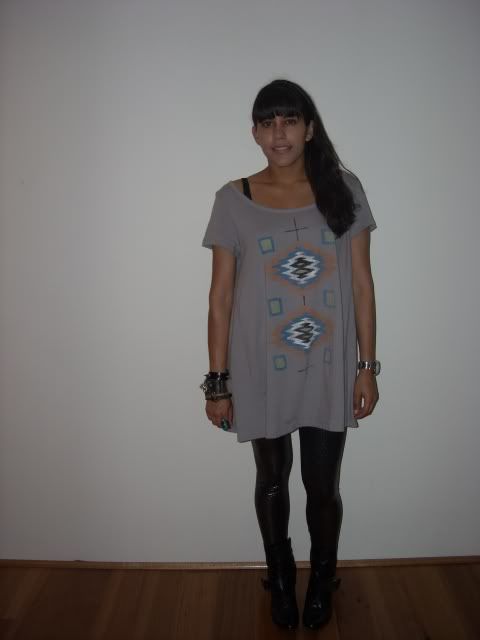 On a side note, I ordered a pair of leather biker boots off of ASOS on Wednesday and they were at my doorstep yesterday. Woah. Thats efficiency. They alerted me to dispatch on Thursday and were here by Monday. Service with a smile. And I love the boots; comfy, sexy and the perfect 'flat' shoes.....so badass, its good!
Have a lovely weekend folks :)
top, sportsgirl. leggings, sportsgirl. boots, shoobiz. bangles; diva, vintage, just jeans. ring, sportsgirl.