I'm such a slacker I actually bought a pair of (what would be) D.I.Y. slashed leggings from Supre.
Still, there's something to be said about store-bought slashed leggings that cost next to nothing; the slashes are precision cut saving me the hassle of measuring out where to cut the leggings and cost only $20 Aus (which is what I would have paid for the leggings whole).
Worn to watch Terminator Salvation. A movie I thought I'd be muchly bewildered and disappointed in given I have no clue what the whole Terminator deal is. But factoring in Christian Bale (one of my favourite actors), relative newbie
Sam Worthington
who blows Bale out of the water in the movie (he
of 'Blue Heelers' and 'Love My Way' fame
) and a more than decent story plot, this movie is actually one to watch. Nice. And confession time, I was actually sniffling at the end. Why? Highlight below for the story giveaway....don't say you weren't warned...
He is the key to keeping Bale alive in the end, graciously giving his heart to him and terminating his own life, leaving Bale and Rees and the Resistance with the realisation that what makes humans human is our unpredicitability and essentially, our hearts.
this time around, I remembered to take a photo of the back of the tunic....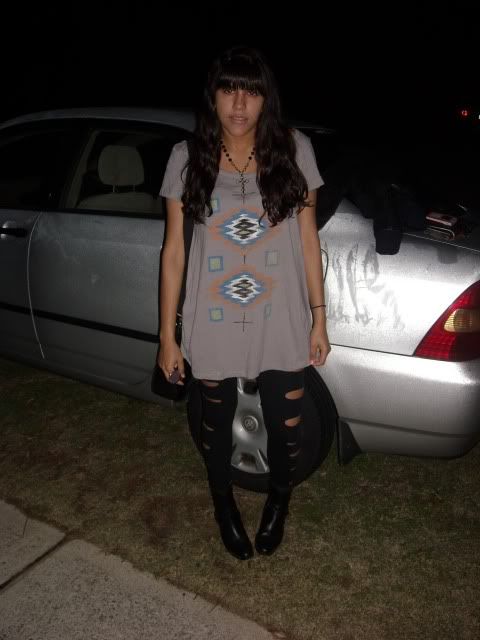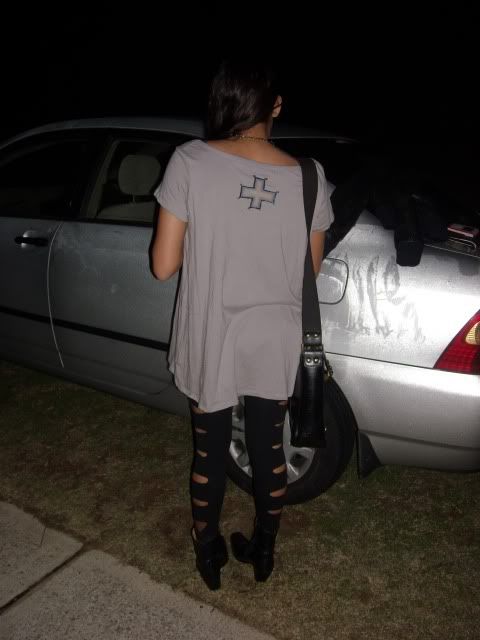 tunic, sportsgirl. leggings, supre. boots, frye. leather jacket, vintage. bag, louis vuitton. necklace, live. ring, diva.