I thrifted a pair of knee-high grunge combat boots a little while ago and have been waiting for a cold enough day to wear them.
Sunday was it.
I opted for comfort for my coffee date with Stuart, where we spent the better part of an hour debating human right to sex-change operations and whether, hypothetically speaking, if you had the choice you would re-configure your brain to permit you to act the sex you are or have a sex-change operation i.e. 'mind over body' or 'body over mind'.
We both picked 'body over mind' i.e. having the sex-change operation if we had to pick one. On the basis that it is a human right to be able to have a prerogative with regards to what you choose to believe/support/wear and how you feel as an individual being, regardless of whether or not it fits into that neat "normal" category. We also discussed the involvement of governments in making legal standing orders about sex-change operations or (once again, hypothetically speaking) a "brain" operation, which led to the whole "invasion of human rights in the grossest way" conversation.
Very interesting topic in my opinion.
What do you guys think???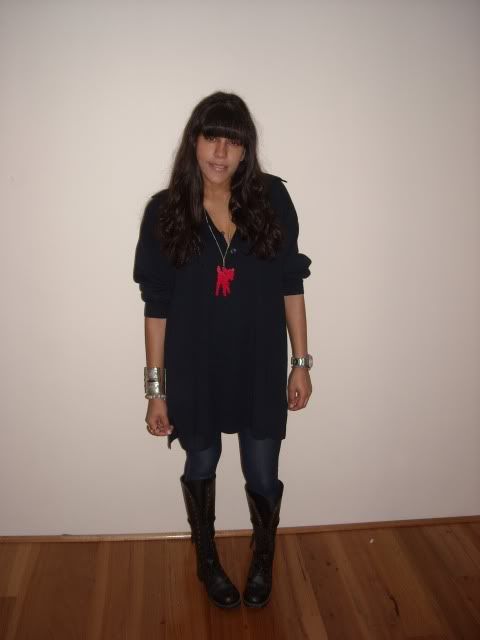 mens sweater, vintage. denim-look leggings, valleygirl. boots, vintage. necklace, diva. cuff, present. hair, who the hell knows.