I decided to wear my not-yet-completed DIY project, the boots, out a few days back. While studding, I had to chop the fringe from the front of the boots so that the studs were visible. I like it so far but am not sure whether to keep going or stop as currently is. I've got the thumbs up on the studding (and the 'yeah, stop studding') from my sister and Stuart. What do you guys think? Does it need more studs? Should I go stud crazy and do the whole front of the boots?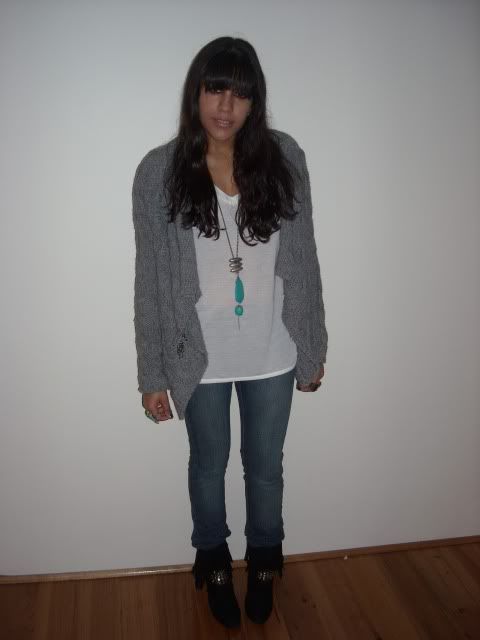 In other news, the coffee shop I visit more often than what one would call 'regularly' now has a fantastic musician who puts on a one-man show every Wednesday evening for a couple of hours (he sings and plays the guitar). Will just have to chill out at Tiger Tiger on Wednesdays after work from now on, obviously :) The guy is a brilliant muso; he has a low, husky voice and is fantastic on the guitar.



How's everyone's week going?
I just recently decided to put more effort into my blog/follow other blogs (I used to just know the ones I checked and would pull up the sites each time, now I can link direct :)/have a 'follow me' segment and potentially, but not definitely, get into bloglovin'. Hmmm, we'll just have to see. Follow me? Also, let me know if you would like to exchange links :)

tee, killababe from live. jeans, supre. cardigan, vintage. boots, DIY rubi. necklace, gift from holland. rings; markets, diva, sportsgirl.