Thanks for your advice on the pair of leggings in the last post....I re-thought it out and have decided that whilst I still think the Ellery PVC leggings are the 'bees knees', I probably wouldn't have got much use out of them.

So I decided to focus my attention on something else......shoes!
I've been trying to hunt down the
Siren
knock-offs of the mesh sandals by Stella McCartney with no luck, but in my search found a suitable alternative knock-off (also by Siren): the Balmain crystal embellished studded sandals.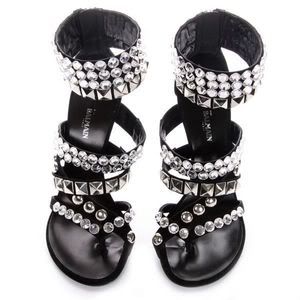 The real deal...
the knock-off: Siren Cunning shoes....
I've saved myself just over $2,000, the heel on the Siren knock-offs is KILLER, and these shoes are different from anything else I own. Is anyone else sick and tired of the standard black leather platform shoes (with minor variations aplenty)???!! I am. I'm focusing on coloured heels, wedges, oh and the odd crystal embellished shoe or two ;)
If you too want to experience the joy that is the Siren Cunning shoes, check out
Sassi Parella
(click on link to be directed to the shoes). You can buy now or pre-order, depending on what size you're after.
Hope you're all having a fantastic weekend....I'm off to a friend's birthday party.