A few weeks back, one of Stuart's best friends got married. It was a wonderful ceremony, and afterwards we stood around discussing how everyone we knew was either getting engaged or getting married and what kind of ceremonies we wanted for our weddings (fulfilling that stereotype of girls fantasizing about their wedding). Stuart and I were at our local shopping centre a few days later with my younger sister when she walked into a jewellery store that was having a massive sale.
"Ah look, Stuart, maybe you should just buy a ring now…..you could get a decent one for $300 at this price" I stated.
My sister and Stuart looked stunned.
Stuart countered that offer with, "I was planning to spend a lot more on a ring, woman", and my sister shook her head and stated that whilst this shop did nice jewellery, you needed a 'special' wedding ring that stood the test of time.
It got me thinking…..she's correct you know. If I have to wear that one ring for the rest of my life I want something elegant and beautiful, something that I can look at always and admire, and definitely something that represents the commitment.
I have to admit that the above coupled with Stuart and me talking about when we'd get married led to more investigation into the matter. I'll further cement that stereotype (and that's saying something, considering how non-girly I am) and admit that I want a gorgeous
diamond ring
.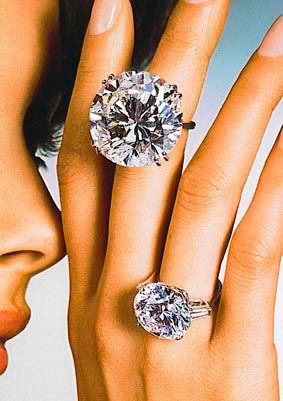 Enter
Abazias Diamonds
. Diamonds……drool. Yes when I was a little girl, I imagined a big diamond ring on my finger when I got married. I haven't thought about it in a long while (20 years, give or take) but now prompted to do so, I would love a classic solitaire-set white gold diamond ring. Fussy? No, I don't think so; I just know what I like. And I love that Abazias specializes in letting you design your ring. Yes, you can customise your engagement ring. Yes, there's a vast range of diamonds and settings to fit your price. Yes, they are reasonably priced (hey, I was joking when I said $300!!). More importantly, for the not-so-knowledgeable (read: me :) there's valuable information on how to pick that special ring.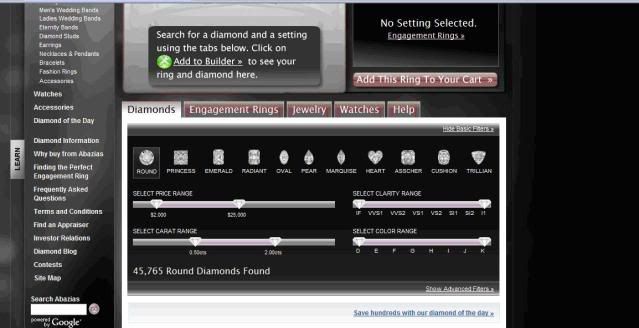 Final yes? The fact that they also sell some pretty awesome watches. I don't know if you guys know, but I am a certified watch aficionado. Reasonable oversized men's watches? I'm sold.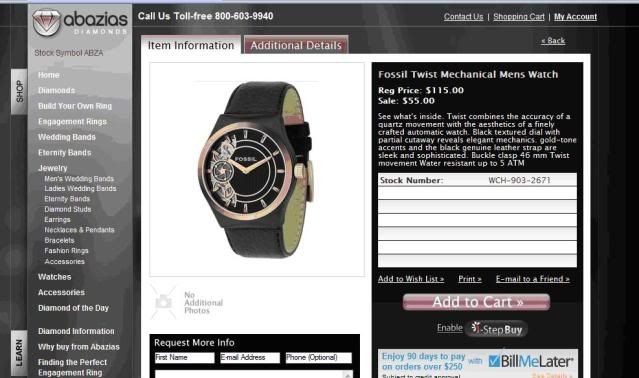 love this watch…..on sale too for $55.00!