...is a Guns'n'Roses tune off their album Appetite for Destruction. Why am I telling you this? One of my friends recently turned 27, and to celebrate her birthday she decided to have an 80s dress-up karaoke party at this crazy-awesome karaoke bar we know (Dreamland) where drinks, a Chinese buffet and karaoke can be enjoyed for the sweet sweet price of $30. I decided to take inspiration from Axl Rose, front man for Guns'n'Roses....minus the bandana. Can't be mussing up the hair you know ;)
It was a crazy affair, with everyone turning up in the best 80s outfits. There was the aerobics chick, the neon colours outfit, the ridiculous moustache and mullet wig, the 80s rockstar (complete with shoulder padded leather jacket and hi-tops), an American werewolf in London and a few more crazy outfits.
We took some crazy pics which I look forward to seeing. I only took a few pics myself.
(Stuart; in the crazzzy leather jacket, neon tee and hi-tops)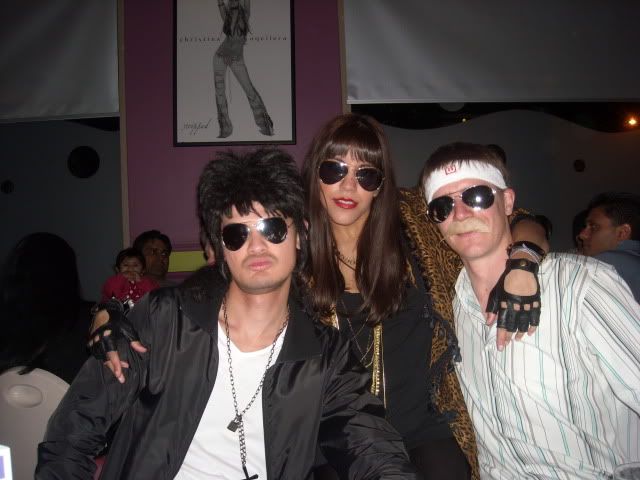 The most embarassing thing about my outfit was the fact that the only thing I had to purchase specially for the party was the aviator sunglasses. Heh.
The rest of the weekend was spent shopping for birthday presents and cake and generally chilling out. Perfect. I also contemplated distressing the skinny jeans in these pics, but was too lazy to actually deliver.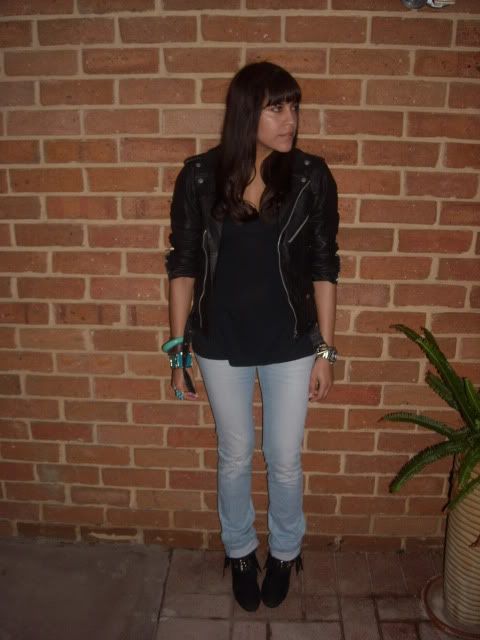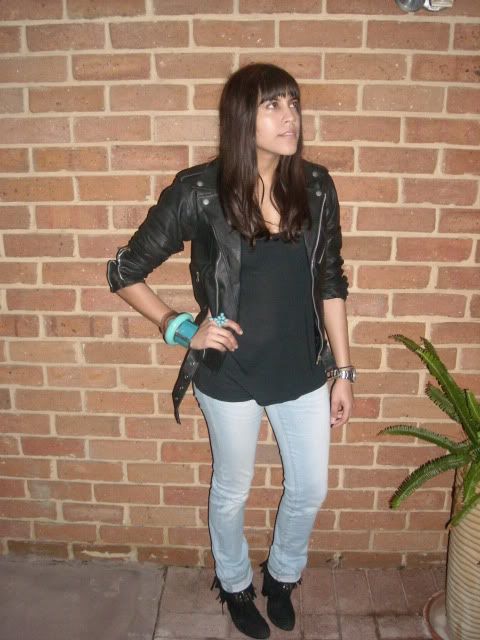 Check out the gorgeous turquoise cross stone ring Stu bought me :)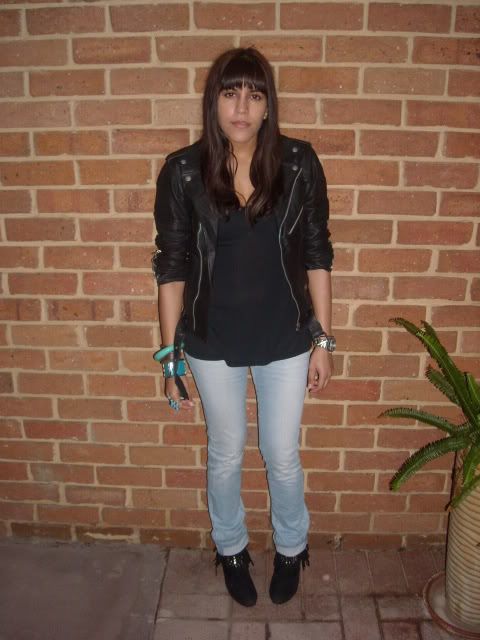 Yes, I'm always awkward taking poseur pics, don't mind me....
How did you guys spend your weekends?
80s outfit: tank, witchery. leather skinnies, sportsgirl. leather gloves, markets. leopard print jacket, vintage. chains, diva; live; vintage. sunnies, cotton on.
normal outfit: tank, supre. jeans, lee supatube. shoes, DIY rubi. leather jacket, red rover. arm wear, street vendor in thailand; markets; diva.