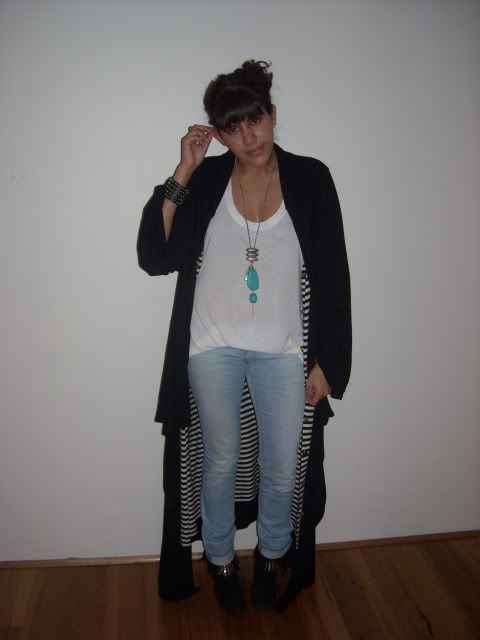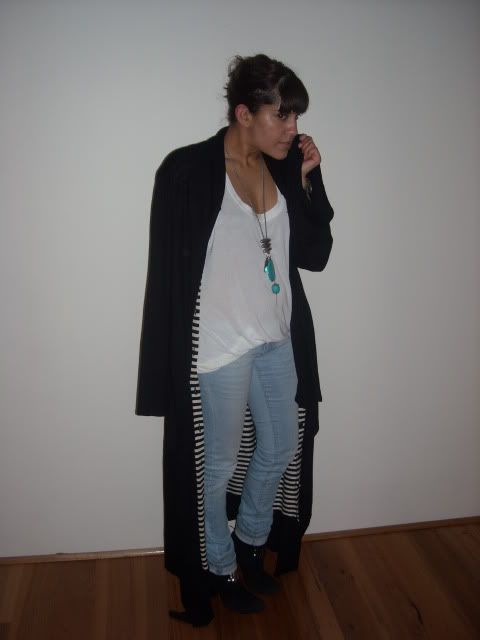 sheer tank, supre. jeans, lee supatube. boots, DIY rubi. cardigan, kirrily johnston. necklace, gift from holland. rings, gift and vintage.
This weekend I did some kickboxing, nearly bought a gorgeous silk studded cape by Natasha in Leederville (but refrained), had fish and chips for lunch, window shopped, wore my gorgeous slouchy cardigan by Kirrily Johnston all weekend, planned to shred jeans, worked out the route for our Europe trip with Stuart, and decided to watch District 9.
We'd heard good things about the movie, and decided to give this sci-fi flick a go. I have to admit that we were expecting your run-of-the-mill sci-fi flick, and therefore were very pleasantly surprised at the brilliance of it all. The movie is done documentary-style and is based on
Alive in Joburg
, a 2005 short film directed by Neill Blomkamp that centres on the same subject matter. District 9 subverts the alien genre, stripping the aliens of all mystery and showing them living in a squalid slum within Jo'burg. The hand held camera work looks stylish, not cheap as in so many other films, and the movie's comments on immigration, capitalism, greed, power as well as its analogies to the events that occured during the apartheid system enforced by the South African government between 1948 and 1994 are done so goddamn well.
Read the synopsis
here
, and then go and see this movie. It's brilliance lies in the fact that it is set in South Africa, has no well-known actors playing the cliched sci-fi good guys, and that it is set up and splayed out perfectly in documentary form. Stuart and I agreed that it is probably the best film we've seen to date in 2009 (only Gran Torino compares). The special effects are brilliant, the aliens completely believable. It's only that much more special because
Sharlto Copley's
acting is brilliant, it does not preach the morals that are achieved by the close of the film, and because the story-telling is magnificent and aimed at an intelligent audience. I'll bet the folks at
Halo
are regretting letting Blomkamp go as director for
Halo
*. Bloody brilliant movie.
Anika's review: 4 1/2 catfood tins/5
Stuart's review: 4 1/2 catfood tins/5
*So the story goes, Peter Jackson approached Blomkamp to direct Halo. Blomkamp wanted to focus on the relationship between the aliens and the humans in the movie but this idea was no-no'ed. So Blomkamp resigned as director, and him and Peter Jackson decided to do District 9 instead.