Recently, I read about a more unusual collaboration.
Betwixt Pritzker Prize-winning Iraqi-born architect Zaha Hadid and Brazilian shoe label Melissa.
The single picture that accompanied the blurb intrigued me...the shoes looked quite cool....
So I dug a little deeper (thank you Google :) to find out more.
The design of the shoes is said to
"engage with the fluid organic contours of the body. The shoes asymmetric quality conveys an inherent sense of move-ment to the design, evoking continuous transformation. The concept addresses the perception of wearing the shoe in motion rather than a static display on a shopping window.
The shoes emerge from the ground and climb up the foot and leg with a soft elegant movement. The plastic organic quality of the choreography adheres to the skin. There is an implicit sense of lightness that blurs the boundary between body and object."
Zaha spent two years to create a shoe that moulds to the lines of the foot. The shoes are made from materials that can be recycled and there are no buckles, closures or seals.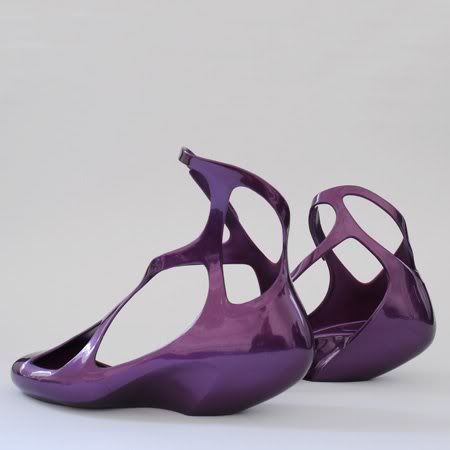 Opinions?
I love this concept. The comfort factor is a huge plus but more importantly the space-age look these give off would elevate mere outfits to stratospheric levels. I would love to know exactly how affordable these shoes are, just so I can go out and buy me a pair.
Further, Zaha Hadid's architectural work speaks for itself.
Her lack of compromise in design and artistic temperament give her work a dramatic, modern take. I also happen to adore the fragmented geometry clearly present in her work.
For examples of her work, see the
Meanwhile, I will be hitting up Melissa's Australian website (come May) to see if I can get my hands on a pair of (in every sense of the word) architectural shoes. As an architectural shoe fiend, how better to satiate my craving than a silver pair? ;)