These are bits'n'bobs of what's been happening....
A few weeks ago, Erika from fashion chalet and me sent each other gift packages.
I loved hers....it had the cutest card, nail polish (to complement my growing collection cough*obsessionmuch*cough), fabulous easter egg chocolates and some eye makeup as well.
you may be asking, 'where are the chocolates?'. guess? my tummy. correct!
You all know Erika to be the sweetest blogger out there. Seriously. And she has a great blog.If you don't, visit
fashion chalet
ASAP.
Also, I promised to take a photo of the DIYed Wang denim chain shorts. Seriously the easiest DIY ever. If you want to try it, see
this post
by Shini from Park and Cube>
(
simple, clear instructions. trust me.
)
Here's the end result....I'm very pleased at how they turned out.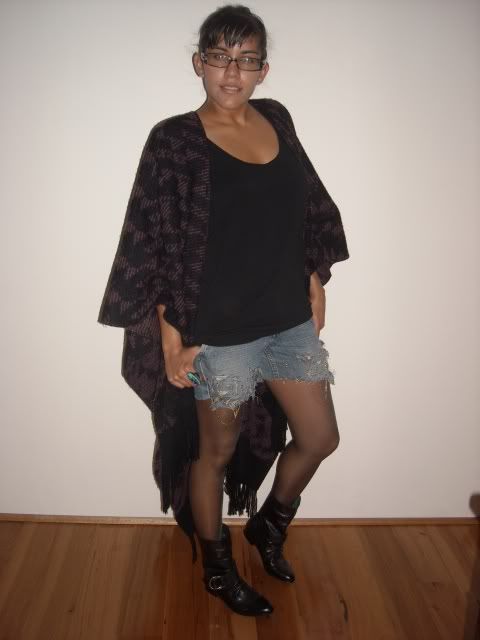 Had to take a mirror shot as my substitute photographer (my sister) got grumpy after a few shots and stormed off. What can I say, she was hungry and I was insisting she take yet another pic ;)
pocket tank, witchery. poncho-esque cardi, vintage. shorts, DIY cutoff levis. tights, random. ring, sportsgirl. leather boots, shoobiz.